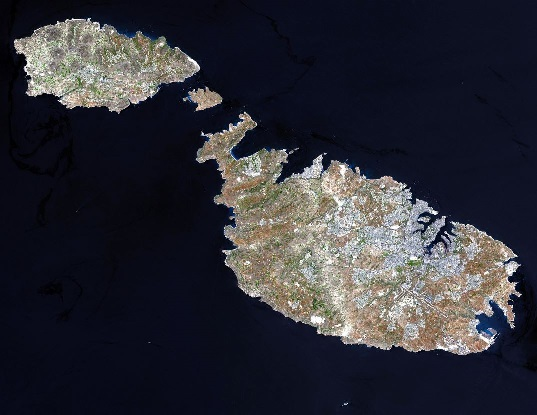 Malta is the largest island of the archipelago, by extension and population. It is as varied as it can be: even within the cities the mixture of sacred and profane, of ancient and new can be found in the same street. For example, its capital city Valletta has been entirely declared UNESCO World Heritage Site, but it is at the same time a cultural and commercial centre, attracting thousands of both workers and visitors on a daily basis.
Mdina, Malta's former capital, was constructed on a hilltop with a view of its southwest coast using a clear military plan. The Maltese refer to it as the "Silent city," and it boasts a distinctive fusion of baroque and medieval architecture surrounded by walls and bastions. The Maltese nightlife continues until later hours in the Paceville, St. Julians neighborhoods, Sliema, Bugibba and Valletta a where clubs, pubs, restaurants, and lounges feature a variety of musical genres to suit all tastes.
As a base for the Allied Powers during World War II, the island of Malta in particular played a crucial strategic role. German and Italian planes pounded Malta mercilessly, and by the end of the conflict, it had been completely destroyed. In honor of the Maltese people's valor during the war, Malta was given the George Cross, a British decoration for outstanding valour, in 1942. The movement for self-governance grew in strength after the conflict. Malta gained its independence from Great Britain in 1964, entered the Commonwealth, and on December 13, 1974, it was proclaimed a republic. In 2004, it was granted membership in the European Union (EU). Malta has a distinctly European feel due to its close ties to the continent, especially with southern Europe. Regarding the experience of St. Paul, the Apostle, who is claimed to have been shipwrecked near Malta in 60 CE, the Acts of the Apostles makes note of the Maltese people's reputation for warmth, hospitality, and compassion toward foreigners.
Maltese culture has been greatly influenced by Roman Catholicism. Around religious holidays, particularly those honoring the patron saints of towns and villages, many traditions have developed. Malta's national emblem is the eight-pointed, or Maltese, cross, which was chosen by the Hospitallers of St. John of Jerusalem in 1126 and is depicted on the nation's euro coin. The capital is Valletta.